Learn about the rise of challenger banks, digital-only banks that are disrupting the traditional banking industry by offering innovative features and better customer service.
Introduction
In recent years, the number of digital-only banks, sometimes known as "challenger banks," has increased. These new banking sector firms are challenging established banks by providing novel services and improved customer service.
In this blog, we'll look at what differentiates challenger banks from traditional banks and how they're transforming the way we bank. We will also go through the advantages and disadvantages of utilizing a challenger bank, as well as some instances of prominent challenger banks that are currently operating in the market.
But first, let's dive in and understand exactly what a challenger bank is.
What is a Challenger Bank?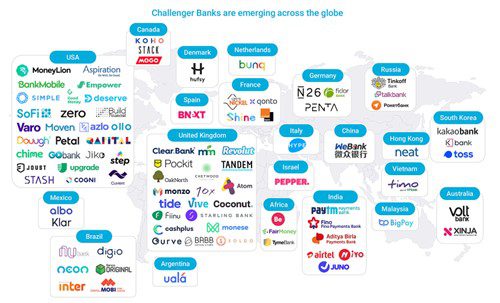 Challenger banks, also known as neo banks or digital banks, are a new breed of financial institutions that are shaking up the traditional banking industry.
They offer a wide range of products and services, including current accounts, credit cards, loans, and savings accounts, all through a digital platform. These banks are designed to be more convenient, user-friendly, and accessible than traditional banks, making them a popular choice for many consumers.
Why Are They Called "Challenger Banks"?
Challenger banks are so-called because they are new financial entities that are disrupting the established banking paradigm. They are committed to utilizing technology to deliver a variety of financial products and services that are tailored to the individual demands of various consumer groups.
They have a digital and mobile-first strategy and frequently provide online and mobile banking services that are simple to use and available from anywhere in the world.
These new, creative banking models and technology are competing with the traditional banking system for market share by providing more tailored financial services and a better client experience. They are disrupting the market and challenging the established companies in the banking sector, hence the label "challenger banks."
Now, let's find out how challenger banks are different from traditional banks.
What Makes Challenger Banks Different?
One of the biggest differences between challenger banks and traditional banks is their approach to banking.
Traditional banks tend to have a one-size-fits-all approach, with a limited range of products and services. Their technology is often dated, more complicated, and less user-friendly than challenger banks.
Challenger banks offer a more tailored and personalized experience, with a wider range of products and services tailored to the needs of different customers. They rely heavily on digital platforms and mobile apps to provide customers with easy and convenient access to their banking services.
This means customers can access their accounts and manage their finances from anywhere, at any time, using their smartphones or tablets.
What is an Online-Only Account?
An online-only account is a bank account that can only be established and maintained online. This implies there are no physical branches or tellers to visit, and all transactions and account maintenance are handled via a website or mobile app.
There are many benefits to an online-only account over a more traditional one. Here are some of the most significant ones:
Greater transparency: Since many challenger banks are upfront about their costs and services, clients may better understand what they are paying for.
New services: Some challenger banks provide innovative services, such as budgeting software or real-time expenditure tracking, to assist consumers in managing their money better.
Better customer service: Many challenger banks are thought to provide superior customer service versus established banks. They may have more responsive support staff or perhaps provide 24/7 assistance.
Bonuses and rewards: Some challenger banks provide referral programs and other incentives to recruit new members, which can be an excellent way to earn extra money or discounts.
Are Online-Only Accounts Cheaper Than Traditional Accounts?
Thanks to decreased administrative costs, online-only accounts are frequently less expensive than regular bank accounts. They may have fewer fees or minimum balance requirements and also provide greater interest rates on savings accounts.
However, before opening an account, it's always a good idea to investigate and evaluate the costs and services provided by different banks.
Why Consider a Challenger Bank?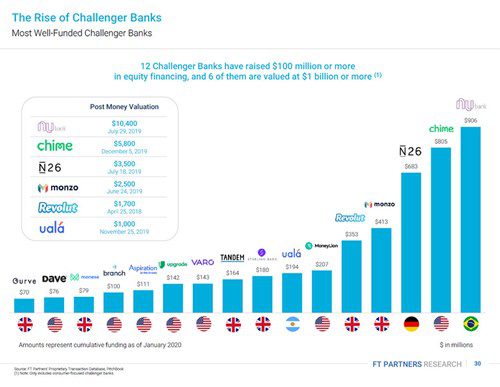 Challenger banks offer several benefits to customers, just a few of them are as follows:
1. Convenience
With the ability to access your account and manage your finances from anywhere, at any time, using your smartphone or tablet, challenger banks offer a level of convenience that traditional banks haven't been able to match yet.
2. Personalization
Challenger banks offer a more tailored and personalized banking experience, with a wider range of products and services tailored to different customers' needs.
3. Innovation
Challenger banks are at the forefront of innovation in the banking industry, using cutting-edge technology and digital platforms to provide customers with a more seamless and efficient banking experience.
4. Low-cost
Challenger banks operate on low-cost models; thus, they can offer better interest rates and lower fees than traditional banks.
Challenger Banks As A Global Banking Solution For Expats
Challenger banks are gaining popularity as a result of their capacity to provide consumers with a more personalized banking experience. They employ cutting-edge technology to offer a variety of financial products and services that are tailored to the individual demands of various consumer segments.
One of the primary benefits of challenger banks for expats is the availability of multi-currency accounts. These accounts allow clients to store and manage various currencies in a single account, which is very handy for expats who travel or live in numerous countries regularly.
This can assist in simplifying the management of foreign currency transactions while also saving money on currency exchange fees.
Conclusion
The technology-driven approach of challenger banks allows them to meet the specific needs of different customer segments, including expats, and also offer a more personalized banking experience.
Challenger banks are thus great as a global banking solution – they offer a more flexible and cost-effective banking experience, provide multi-currency accounts, digital and mobile banking services, lower fees, as well as a few physical branches.